Registering is the first step to voting. You can check your registration status, update your registration, or register for the first time using the resources below.
How to Register or Update Your Voting Registration
You can also use the QR code to register online to vote.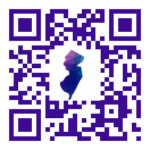 To register in New Jersey, you must be:
A United States citizen
At least 17 years old, though you may not vote until you have reached the age of 18
A resident of the county for 30 days before the election
A person not serving a sentence of incarceration as the result of a conviction of any indictable offense under the laws of this or another state or of the United States.
You are NOT eligible to register to vote if:
You are serving a sentence of Incarceration as a result of a conviction of an indictable offense under the laws of this or another state or of the United States.
When Should I Re-Register?
When to re-register to vote:
You move
You change your name
You change your political party affiliation
You haven't voted in the past four years
Your signature has changed
All these reasons can be indicated in Box 1 of the New Jersey Voter Registration Application.  The process to re-register uses the same form as for a new registration.  In addition, if you want to sign up for Vote By Mail or declare/change your Political Party Affiliation, you can also do that on this form.
Deadline to register or re-register to vote:
The registration deadline to vote in the next election is 21 days prior to the election day.
Sample Voter Registration Application
Military and Overseas Voters
Military Voters
Military voters are voters who are absent from their New Jersey residence on election day; and is entitled to vote regardless of whether they are living elsewhere in New Jersey (i.e. a military installation), outside of New Jersey or outside the United States.
"Military voters" include New Jersey citizens who are members of the Uniformed Services, Merchant Marine, commissioned corps of the Public Health Service, the National Oceanic and Atmospheric Administration.
Spouses or dependents of a member of the military or other uniformed services are also considered to be "military voters".
Overseas Voters
"Overseas voters" are voters who are living outside of the United States and who were residing in New Jersey immediately prior to departure.
Note: The overseas voters need not have been registered to vote in New Jersey prior to going outside of the United States, but they must have been domiciled in New Jersey and have met the qualifications to register and vote in New Jersey.
University students away at college — out of town or out of state — have the option to register using their college address or their parent's home address. The same New Jersey Voter Registration form and process are used.  College students may come back to New Jersey to vote at their polling place or opt to have their ballot mailed to them at college using Vote By Mail — Box 1 and Box 14.  
Sample College Voter Registration Application
Please help other voters and share freely.